Post by Grand Moff Muffin on Apr 16, 2019 6:47:57 GMT
PIRATE VICTORY LEO THE WHITE LION SHEEP COMMANDER OF THE UNIVERSE
Allegiance: 'Heroic' Battle Beast
Sub-group: Battle Beast Legend
Function: Part-time pirate captain
First appearance: Characters from the 1987 Toy Range: Battletrap's Beasts - They Battle for Fun
"Arrrhhh! Shiver me timbers and a bottle o' rum."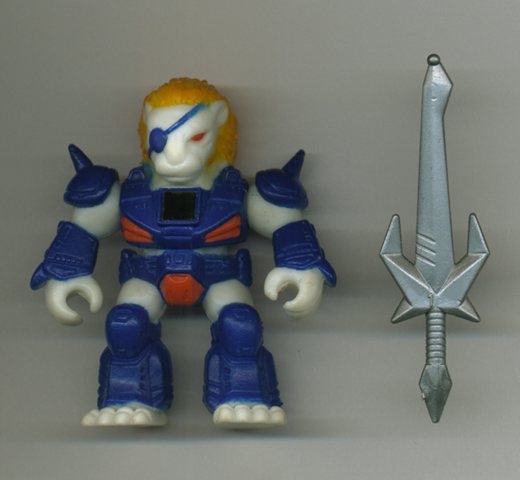 Image source:
www.toyarchive.com
Profile: Avast and prepare to heave to, 'tis White Leo the Pirate Lion. As recounted by Colonel Bird Flykick, the last surviving Battle Beast from that golden era of legends on the western land mass of Planet Beast, White Leo heroically terrorised the east coast of that continent on his pirate ship 'Merry Marauder', saving bored Battle Beasts from tedium by challenging them to fight him for fun in the name of truth and justice. He and his four pals - Bighorn Bombsheep, Colonel Bird Flykick, Grizzly Battle Bear and Rocky Rhino Graysharp - took it in turns to be the leader of the gang they called the 'Heroic Battle Beasts'. The leader's chief duty was to liaise with Hardtop Tortoise the Black Turtle to agree the time and place of the next team fight with their bitter rivals, 'Alligatron's Angry Animals'. After Alligatron's unpopular alliance with the Duocons ended in the Gruesome Gator's unfortunate demise, the Heroic Battle Beasts took to fighting amongst themselves. When White Leo declared himself 'Lord High Sheep Commander', this culminated in his final epic showdown on the high seas with his old friend, Bighorn Bombsheep, and so these giants of glory passed away into myth and legend. "I wanted to save him," laments Colonel Bird Flykick, wiping a tear from his eye. "But I couldn't... I couldn't..." His audience is moved by his emotional tribute to fallen comrades. "...be arsed," he concludes.
Abilities: White Leo invoked the power of fire to cleanse the land of 'evil' and lay on the best barbecues on all of Planet Beast. He wielded the famous Sword of Victory. It was made of metal and cut through stuff.
Weaknesses: The pirate ship 'Merry Marauder' was made of wood, and White Leo kept accidentally setting it on fire. He lost his right eye when coastal villagers, delighted to have the monotony of their lives broken by the uninvited approach of the popular pirate ship, greeted him with a celebratory volley of weapons-grade fireworks. Victory Leo was transfixed by the beauty of the fiery tribute to his nobility and copped a whizzer full in the face.
Strength: 6
Intelligence: 5
Speed: 5
Endurance: 6
Rank: Variable
Courage: 10
Firepower: 6
Skill: 7