Post by Shockprowl on Apr 24, 2008 10:57:38 GMT
DISCLAIMER: This thread has a long history with multiple merges as the same subject comes up again and again. The poll above originates from tmukhub.proboards.com/post/289048/thread and was from Toph himself after the first post was made, hence why there is a little gag at his expense there, rather than someone being mean with the poll. Not something we endorse, unless it's about Ralph...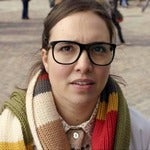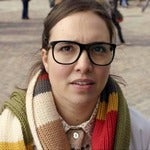 tfwiki.net/wiki/Seeker_(body-type)
SEVENTEEN!!!!!!!!!!!!!!!!!!!!!!!
1 Starscream (leader)
tfwiki.net/wiki/Starscream_(G1)
2 Skywarp
tfwiki.net/wiki/Skywarp_(G1)
3 Thundercracker
tfwiki.net/wiki/Thundercracker_(G1)
4 Dirge
tfwiki.net/wiki/Dirge_(G1)
5 Ramjet
tfwiki.net/wiki/Ramjet_(G1)
6 Thrust
tfwiki.net/wiki/Thrust_(G1)
7 Sunstorm
tfwiki.net/wiki/Sunstorm_(G1)
8 Bitstream
tfwiki.net/wiki/Bitstream_(G1)
9 Hotlink
tfwiki.net/wiki/Hotlink_(G1)
10 Nacelle
tfwiki.net/wiki/Nacelle_(G1)
11 Acid Storm
tfwiki.net/wiki/Acid_Storm_(G1)
12 Ion Storm
tfwiki.net/wiki/Ion_Storm
13 Nova Storm
tfwiki.net/wiki/Nova_Storm_(G1)
14 Red Wing
tfwiki.net/wiki/Red_Wing
15 Sandstorm
tfwiki.net/wiki/Sandstorm_(G2)
16 Slipstream
tfwiki.net/wiki/Slipstream_(G1)
17 Wheezing Arrow
tfwiki.net/wiki/Wheezing_Arrow
Plus more in Aligned....
Twitter: https://twitter.com/Lord_Freddery/status/1131805516018069505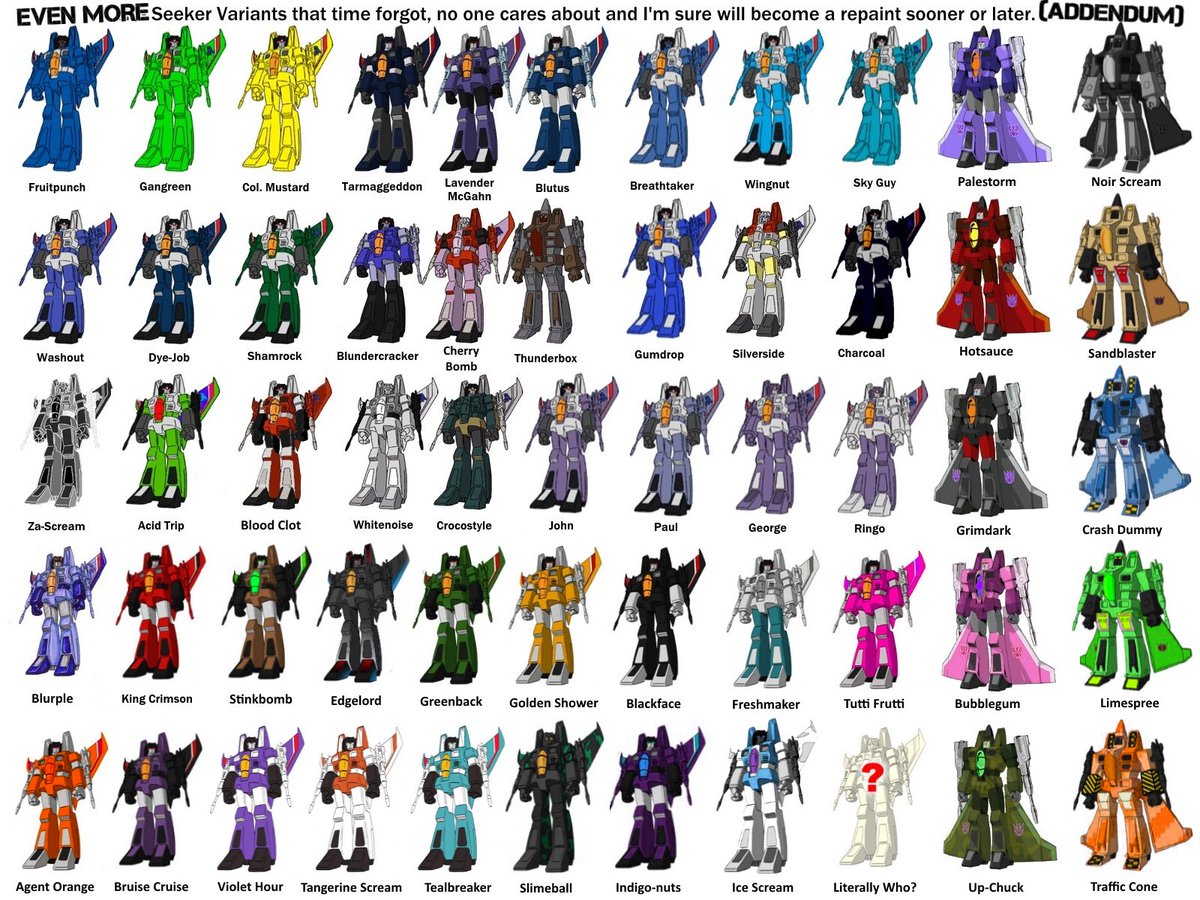 ---
As well as the well know Prowl thing, I'm also obsessed with
STRIKE PLANES!!!!! (Or Seekers to my American friends)
I love the Cone-heads too, but I'm concentrating on the original 3, Starscream, Thundercracker and Skywarp.
Something so iconic about all three of them together. It's like they reach back in time to that weird little boy who's just discovered Transformers and yanked part of him forward to the wierd chap I am today.
But it's not just the styling and G1ick fan-bean goodness- they're such great personalities. We all know 'bout Starscream, a great character. Skywarp's ace, a destruction crazed crazybot, who appears to be loyal to Megatron pretty much. And then Thundercracker, not a nice chap in his own right, but unsure of the Decepticon cause. Fanscinating characters, who together form a wonderfull little group of conflicting ideals and desires! And who together form a very dangerous group of warriors.
My obsession is to have collections of all three of them in various different lines. So far ...
Armada (thanks to Phil and Nick) is complete. Not the best Seeker molds ever, but they're such large, impossing figs I can't help but like them.
Soon Robot Masters will be complete when a Starscream arrives to me and joins TC and SW supplied by a certain Dark Stranger.
G1: although I only have my vintage Starscream, the upcomming encores of the other two will go down very nicely.
I have ambissions to attempt a KitBash for a Titanium Skywarp (you know how totally ghey I am for Titaniums!). But I have neither the fig, not the skill! I'll give it a crack one day.
Classics, well don't get me started on BotCon Seekers. I'll wait a bit, and tryn find a Thundercracker on Ebay.
Masterpiece. Saving up for Skywarp (rather saving up the courage to ask Mrs Shockprowl if I can buy one!). Only leaves a MP Thundercracker. Will they do one?
I'm dreading this Deep Space Movie Starscream will look like Skywarp. 'Cos then I may have to look at them also! Even though I've avoided collecting too much movie stuff.
World's Smallest are expensive and mucho hard to find and I don't think they've done all 3 have they?
So there you have it. A peek into the mind of Shockprowl.
---