Post by Philip Ayres on Jun 12, 2019 6:41:13 GMT
See Also:
Siege
tmukhub.proboards.com/thread/9727/war-cybertron-siege
Earthrise Leader Optimus Prime
tmukhub.proboards.com/thread/10849/earthrise-leader-optimus-prime
Earthrise Commander Sky Lynx
tmukhub.proboards.com/thread/10852/war-cybertron-earthrise-commander-lynx
Earthrise Titan Scorponok
tmukhub.proboards.com/thread/10661/war-cybertron-earthrise-2020-titan
Generations Select Series
tmukhub.proboards.com/thread/10280/generations-select-series
Netflix Collection
tmukhub.proboards.com/thread/10856/wal-mart-netflix-collection
Amazon Galactic Odyssey
tmukhub.proboards.com/thread/11129/amazon-galactic-odyssey-collection
Quintesson Pit of Judgement
tmukhub.proboards.com/thread/11177/wfc-quintesson-pit-judgement
Centurion Drone & Accessory Pack
tmukhub.proboards.com/thread/11176/wfc-centurion-drone-accessory-pack
War For Cybertron Numbers

WFC-E1 E7146 Soundbarrier
WFC-E2 E8251 Smashdown
WFC-E3 E7149 Hot Rod Patrol: Big Daddy Daddy-O & Trip Up
WFC-E4 E7150 Micormaster Military Patrol Bombshock & Decepticon Growl
WFC-E5 E7154 Hoist
WFC-E6 E7155 Cliffjumper
WFC-E7 E7156 Wheeljack
WFC-E8 E7157 Ironworks
WFC-E9 E7162 Starscream Earth
WFC-E10 E7164 Grapple
WFC-E11 E7166 Optimus Prime with Trailer
WFC-E12 E7167 Astrotrain
WFC-E13 E7148 Slitherfang
WFC-E14 E8253 Rung
WFC-E15 E7152 Race Track Patrol: Ground Hog & Roller Force
WFC-E16 E7153 Astro Squad Autobot Blast Master & Fuzer
WFC-E17 E7159 Arcee
WFC-E18 E7161 Airwave Modulator
WFC-E19 E7158 Quintesson Alicon
WFC-E20 E8206 Smokescreen
WFC-E21 E7313 Snapdragon
WFC-E22 E7165 Quintesson Judge
WFC-E23 E8205 Doubledealer
WFC-E24 E7671 Sky Lynx
WFC-E25 E7672 Scorponok
WFC-E26 E7844 Thrust
WFC-E27 E7460 Elite Fighters Dirge & Ramjet
WFC-E28 E???? Exclusive 1 ??
WFC-E29 E8624 Voyager Seeker 2-Pack: Thundercracker & Skywarp
WFC-E30 E8623 Decepticon Clones 2-Pack
WFC-E31 E7461 Autobot Alliance: Prowl & Ironhide
WFC-E32 E7463 Bluestreak
WFC-E33 E9686 Centurion Drone
WFC-E34 E8207 Trailbreaker
WFC-E35 E7160 Fasttrack
WFC-E36 E8208 Sunstreaker
WFC-E37 E8209 Runamuck
WFC-E38 E8204 Megatron
WFC-E39 E7247 Decepticon Doublecrosser
WFC-E40 E9838 Battle Squad: Direct-Hit & Power Punch
WFC-E41 F0125 Runabout
---
From the TF Weibo account, now removed
Another Vote: Gnaw, a Battlecharger, Needlenose & Skrapnel?
snakas.blog95.fc2.com/blog-entry-7123.html
news.tfw2005.com/2019/06/11/possible-war-for-cybertron-character-vote-for-2020-389680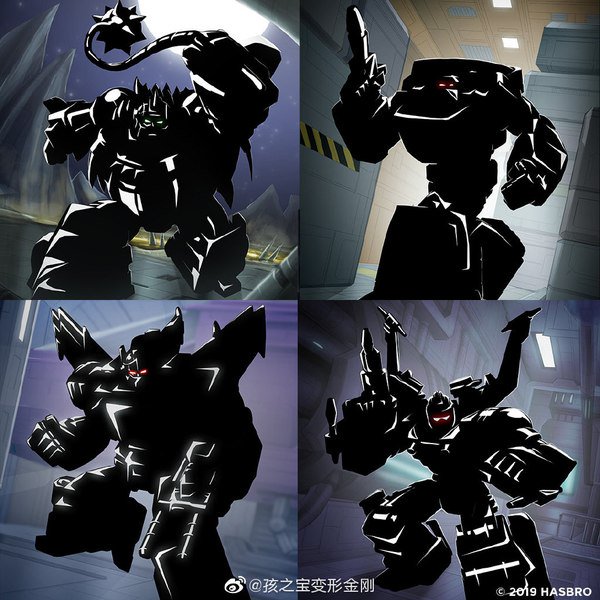 The Armageddon name is on this TFW thread, not seeing it elsewhere
www.tfw2005.com/boards/threads/wfc-armageddon-vote.1175917
Autobase Aichi Translation:
Rainen no jenerēshonzu WFC seihin no fan tōhyō to iu furekomi no gazō@ Chūgoku TF kōshiki sakujo sumi Chūgoku no hazuburo no u~eibō kōshiki akaunto nite kōkai sa reta rainen no jenerēshonzu WFC de hatsubai suru seihin no fan tōhyō to iu furekomi no gazō ga demawatte imasu. Sono gazō wa, 4tsu no shiruetto ga keisai sa rete ori, sono Chū kara rainen no WFC de hatsubai suru diseputikon o 1-tai erabou to iu shushi no tōkōdatta norashīdesuga, genzai wa gaitō no tōkō wa sakujo-zumi. Genchi yūzā no SNS tōkō kara, tashikani sono tōkō wa sonzai shita to omowa reru nodesuga, jibun ga kakunin shita toki wa sudeni sakujo-zumidattanode, koreijō wa nantomo. Gazō ni keisai sa rete iru shiruetto wa, shākutikon, batoruchājāzu, nīdorunōzu, shāpuneru to omowa remasuga, tōhyō shiro to itte oite taishō ga shiruetto dakena no mo hen'nakanji wa shimasu. Sonohoka, kijutsu naiyō kara, rainen no jenerēshonzu WFC no taitoru (kotoshi no `shīji' ni sōtō suru bubun) ga,`arumagedon'na node wanai ka to iu suisoku mo tobikatte imasuga, kore mo genbun o mite inainode nantomo. Somosomo sakujo-zuminanode, tōkō naiyō jitai ni machigai ga fukuma rete ita to iu kanōsei mo kangae rarerunode, kongo,-betsu sōsu ga kakunin dekiru made wa, jissai no naiyō wa fu kakutei to kangaete oita kata ga ī kamo shiremasen. Raigetsu no SDCC made ni wa nanrakano jōhō ga deru node wa. Ika, gazō.
Show more
598/5000
■ Image @ China TF official deleted already mention of fan voting of next generation's WFC products
Images of fan voting of products released in the next generation's WFC released in the official Weibo official account of Hasbro in China are on the market.

The image has four silhouettes on it, and it seems that it was a post from the purpose of selecting one Decepticon to be released in WFC next year, but the corresponding post has been deleted.

From the local user's SNS post, it seems that the post certainly existed, but it was already deleted when I checked it, so it's more than this.

The silhouettes shown in the image are considered to be Shark Ticon, Battle Chargers, Needle Nose, Sharpener, but it is strange to say that only the silhouette is the target after voting.

In addition, from the description, the title of the Generations WFC next year (the part corresponding to this year's "Siege") is also speculating that "Armageddon" might be, but this is also because I did not see the original text.

Since it has already been deleted in the first place, there is also the possibility that the post content itself contained an error, so it may be better to consider the actual content as indeterminate until another source can be confirmed in the future. Hmm. Some information will come out by the SDCC next month.

Below is an image.